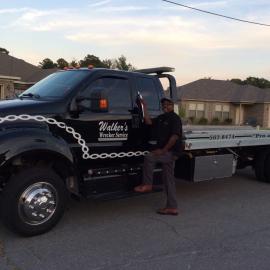 About Us
Reginald Walker is the owner of Walker's Wrecker and Repair, where he operates a home-grown auto repair shop, impound lot, and 24-hour wrecker service.


Walker's Wrecker & Repair has been a Southwest Little Rock staple for more than 20 years and has partnered with the City of Little Rock, State Police, local car dealerships, and nationwide insurance and roadside companies to meet the needs of customers within the tri-state area. Walker's strives to cultivate a great, quality experience for patrons at what may be the most frustrating times.


If you are in need of reliable and professional automotive service Walker's is the best choice for a repair or tow. Make us your first call. When you see our impressive service and friendly staff, you'll be glad that you chose us.